Learn Surfing in Newquay
Newquay is the UK's premier surfing resort with the best surf in Europe. Surfing is not just a sport, it is a lifestyle here and almost everything in Newquay revolves around the surfing industry.
Newquay provides beaches and surfing conditions to suit all standards from beginner to professional and has grown to be home to some of the best surfing schools in the world. It is a good place to start surfing plus offers all the facilities you need after a hard days wave riding.
Lessons
There are several ways to learn surfing in Newquay. You can choose from:
Half Day
Full Day
Weekend Breaks
Surfing Holidays
It really depends on the time and money you want spend and how much you want to learn. Try a day lesson first to find out how you get on before embarking on a longer surfing holiday.
The courses are designed to be informative, challenging and fun, but most importantly, safe. Most surf schools are BSA affiliated and have BSA qualified instructors who are beach lifeguards with years of surfing experience and are members of a professional sports/surf coaching body. The winter season offers a new challenge for seasoned surfers.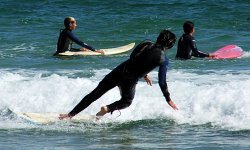 Rash Vests
Surfers wear rash vests to prevent wax-based chafing from sliding on and off the surf board. The board's wax holds sand from the beach that would rub against the surfer's torsos as they paddle out to the break.
Rash vests also offer some protection against jelly fish stings and have a high Ultraviolet Protection Factor (UPF) to protect against sunburn.